At DR Coins & Jewelry, we cater to all types of customers, from the bullion investor to the coin and precious metals collector. We have an extensive inventory of coins and currency that is always changing. We're confident that you'll find what you're looking for, and if you don't, you can trust us to help you track it down!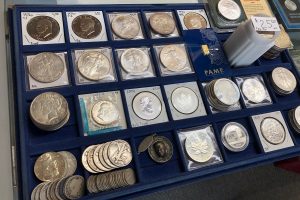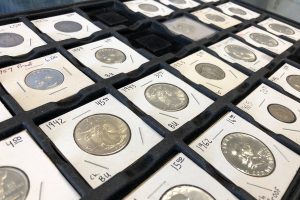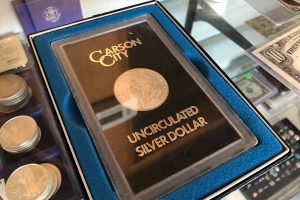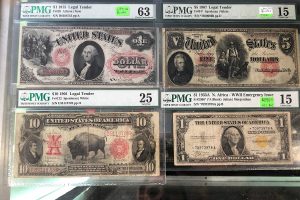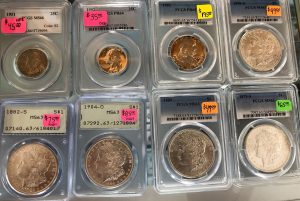 We buy and sell coins!
Large Cents, Small Cents, Half-Cents, Two Cents, Three Cents, Nickels, Dimes, Twenty Cents, Quarters, Half Dollars, Silver Dollars, Gold Dollars, Quarter Eagles, Half Eagles, Eagles, Double Eagles, Mints, Silver Bullion, Gold Bullion, Platinum Bullion
We buy all American and foreign paper money and coins. If you have coins that you'd like to get appraised and sell, bring them to DR Coins & Jewelry!
We are your go-to coin dealer in Lansing, Michigan. When you walk through our door, you can trust that you'll be met with a friendly greeting and good conversation – we share similar interests after all! Don't just trust anyone who says they'll buy your coins and currency, trust DR Coins & Jewelry!
Gold Coins, Gold Bullion, Silver Coins, Silver Bullion. Platinum, Paper Money, Paper Currency, and American Eagles
Canada Maple Leafs
Canada Coins
China Pandas
Silver Dollars
Morgan Dollars
Peace Dollars
Eisenhower Dollars
Commemorative Coins
Proof Sets
Mint Sets
Certified Coins
Uncertified Coins (Non-Graded, Non-Capsulated, Non-Authenticated)
USA Stamps and Mint Sheets
Canada Stamps
Discount Postage
Bring your coins, currency, and other collectible items to our shop today! For more information, call us at (517) 512-0908!
Primary Communities Served